Videos
Island Hopping and Speed Boat Riding
We cater to all the beach resorts in Mactan Island and Cebu city hotels.
T.V Hosts, actors, actresses, politicians and a famous Filipino boxer have all trusted NTJ Water sports Cebu to provide them with their water sports needs.
Services:
Parasail, Scuba diving, Jet ski, Helmet dive, Banana Boat rides, Fuel water tubes, Wake snake, water skii, wakeboard, speed boat hire, outrigger boat hire, Kayaks, Snorkel hires, Island hopping, Island hopping catering, Company outings and team building, Yacht hires
It's More Fun in Cebu Philippines
CEBU – The taste of salt in the whipped air was a welcome early morning jolt. The outboard motor churned toward an island near Bohol, while our boat sped past the Mactan Channel.
As a mountain range loomed into view, the guide cut an imposing figure as he positioned himself on the bow, raising a bamboo shaft with which he maneuvered the boat into position. That day, three, maybe four, islands of the 167 that ring Cebu became my stomping grounds.
GOPRO Jet Ski Beach Fun Video
Took the GoPro Hero 2 out with the jet skis my black and gold 2007 Seadoo 215hp RXT, and my mates green and black 2004 sea doo 215hp RXP, great day with school's of dolphins, waves, surf and sun. just went for a casual cruise on a public holiday down the bay glenelg and west beach in south australia. edited with iMovie on my Mac
GOPRO Banana Ride Fun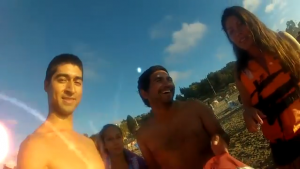 Shot 100% on the new HD HERO® camera.
Junto a mis amigos una tarde de verano en Loncura.
Riding in a banana boat is considered to be a safer activity than water-skiing or other towed-water sports, and is similar to tubing. It is generally safe to ride at 4+ years.
BOAT RIDE EXPERIENCE
Wanna  feel the excitement? then visit our website to see more of the details about Boat Ride.
news
You must try our Water Sports when you are in Cebu Philippines !...

Its more than just a vacation. Its an experience you take with you...
All news